New report details Galaxy Note 9 features, reveals Galaxy Note 8 sales may be halted
37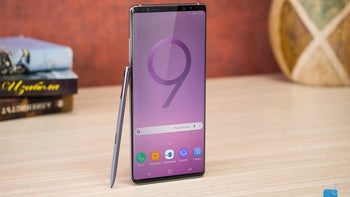 With the Galaxy Note 9 launch officially
set for August 9
, the rate at which leaks continue to appear is expected to grow as the unveiling approaches. Today, however, thanks to notorious tipster Eldar Murtazin, a detailed report about Samsung's next flagship has been released, confirming various aspects.
The industry expert claims to have spent some time with Samsung's upcoming flagship ahead of its release and confirms that, from the front, the differences between the Galaxy Note 9 and last year's flagship are extremely minimal. In fact, the only major design difference overall is the
repositioned fingerprint scanner
on the rear, which now sits below the camera setup. While on the topic of the camera, it's worth pointing out that no major changes have been made, with the device retaining the setup seen on the
Galaxy S9+
. Nevertheless, Murtazin does state that the overall performance has been improved thanks to new algorithms and enhanced optical image stabilization. Also, as an added bonus, the company once again looks set to introduce updates to the
AR Emoji
feature.
Now, in addition to all of this, the tipster also notes that the Galaxy Note 9 feels quite a bit heavier in comparison to its predecessor, a detail that coincides with previous reports of a much larger
4,000mAh battery
. This will bring significant improvements to the battery life, allowing the smartphone to last up to two days on a single charge and reproduce non-stop video at maximum brightness for up to 25 hours. Furthermore, Murtazin also mentions updates to the S Pen, which is now said to include
Bluetooth connectivity
, as stated by recent leaks.
In regards to the specs Samsung's
Galaxy Note 9
will offer, the Snapdragon 845 will be present inside the US and South Korean units while remaining international markets will gain access to the Exynos 9810 Octa. When it comes to the storage configurations, the base model will ship with 6GB of RAM and 128GB of storage. However, the company is understood to also be preparing an offering with 8GB of RAM that will include either 256GB or 512GB of internal storage depending on the buyer's preference.
When the eventual release of the device arrives, it's stated Samsung will aim the smartphone at business users primarily. Perhaps on a more interesting note, though, is the claim that the
South Korean giant
will stop selling last year's Galaxy Note 8 and, in preparation for this, the company has reportedly already stopped shipping the device out to partners. Instead, retailers are simply selling remaining stock at this point in time.