Tipster says that the Samsung Galaxy Note 9's S Pen is "worth the wait"
38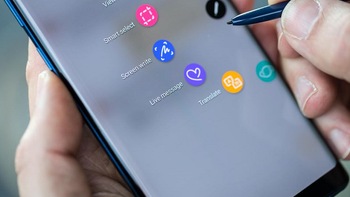 One thing that sets the Samsung Galaxy Note line apart from other phones is the S Pen. More than just a stylus, the S Pen works hand-in-hand with the Galaxy Note to offer features unique to the series. According to a tweet disseminated today by tipster Ice Universe (@UniverseIce), the new version of the S Pen that comes out of the box with the
Samsung Galaxy Note 9
is "worth the wait."
There has been talk about the S Pen supporting Bluetooth this year, allowing users to employ the accessory as a wireless speaker. That would require the S Pen to run on batteries, which could make it a bit thicker than in years past. Another possibility is that the S Pen could add Bluetooth, a speaker and a microphone in order to make phone calls, as long as it remained in close proximity to the Galaxy Note 9 handset.
One interesting concept mentioned would allow a user to "write" on a piece of paper using the S Pen. Since the S Pen is inkless, the words "written" on the paper would appear only on the Galaxy Note 9's display.

Intriguing tweet from tipster Ice Universe hints at compelling features for the S Pen accompanying the Galaxy Note 9
Recommended Stories