Samsung Galaxy J7 (2016) explodes in 4-year old's hand
79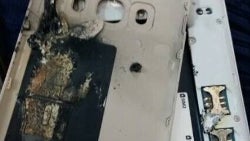 Naureen Ahsan, a Pakistani mother, had lent her daughter's
Samsung Galaxy J7 (2016)
to her four-year old nephew so that he could play a game called "My Talking Tom." Suddenly, the phone got overheated and exploded. Luckily, no one got hurt although "this incident was terrifying for all of us," Ahsan said on Facebook. The explosion comes at a rather bad time for Samsung since the company is about to release the Samsung Galaxy Note 7 (FE).
The Galaxy Note 7 (FE) is a refurbished "Fan Edition" of the phablet that was recalled twice before it was finally pulled off shelves for good following a series of random explosions.
Samsung found that the problem was with the batteries
it was using on the phablet. For the refurbished
Samsung Galaxy Note 7
, Samsung is using a lower capacity 3200mAh cell.
"Today my daughter's mobile Samsung Galaxy J7 (2016) blasted due to may be over heating or lagging due to games..we are unable to share this picture with Samsung's page. My 4 year nephew was playing 'my talking tom' game in it when it got over heated and had a blast. Allhumdulliah he is safe. And my daughter too…but this incident was terrifying for all of us."-Naureen Ahsan
Ahsan said that she has no idea why the Galaxy J7 (2016) exploded, but she did have a warning for parents. ""Keep your children away from mobiles," she stated Pictures she took of the phone after the blast show a bloated battery and the burnt remnants of the handset. You can check it out by clicking on the slideshow below.
source:
Valuewalk
Recommended Stories