Samsung Galaxy Fold coming to the US on September 27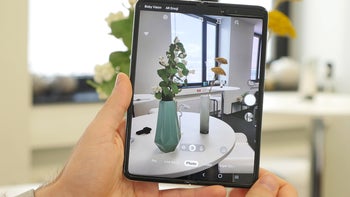 UPDATE
: As expected, Samsung
confirmed
the
Galaxy Fold
will be available for purchase in the US on September 27. It will cost $1,980 and it will be available at AT&T, Best Buy and Samsung Store. The carrier will also sell the foldable smartphone for $66 per month on a 30 month contract.
The Galaxy Fold is surely
selling like hotcakes in South Korea
, the only country where Samsung launched its first-ever foldable smartphone. The
second batch of units
is expected to arrive in that country, while the rest of the world is still waiting for the phone be made available for purchase.
There aren't many countries where the Galaxy Fold will be sold, Samsung
announced early this month
. Besides South Korea, the foldable handset will also be launched in the United States, France, Germany, Singapore, and the UK.
Sadly, when Samsung announced the
Galaxy Fold
in South Korea, it didn't say anything about the phone's availability in other countries. However, if you live in the United States, you'll most likely be able to purchase the phone this Friday.
Evan Blass has just the
tweeted
a screenshot taken by one of his followers, which shows an excerpt of a conversation with an AT&T representative. According to the information revealed by AT&T, the Galaxy Fold will be launched in the US on September 27, but that's all the information the carrier was able to disclose.
As far as the price goes, the Samsung Galaxy Fold will be available for purchase in the US for $1,980, probably a decent price for early adopters. Apart from AT&T, customers in the US might be able to buy this one via T-Mobile and Best Buy as well, although nothing is certain at the moment, so keep checking the
phone's page
every day.