The Galaxy Fold's launch in South Korea is a success, first batch of units gone in mere hours
16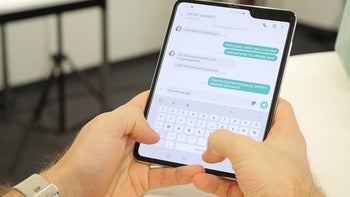 The day that we've been waiting for almost all year has finally come! Gone are the
uncertainties surrounding the release
of Samsung's first device with a foldable display. It's here and
we gave it a try
. But beyond that, regular users that aren't handpicked by Samsung or under its watchful eye, now own a
Galaxy Fold
smartphone. At least in South Korea, that is.
The first day of the rest of the Galaxy Fold's life is almost over in the far East and so far things are looking good for Samsung.
The Korea Herald reports
that all three carriers that are offering the Galaxy Fold at launch are already out of units. No official numbers have been released yet, but experts believe there were about a thousand units dedicated to the first wave of orders. It's important to note that these are only for the carriers. How many
Samsung has sold via its website
and stores is unclear.
While a thousand units is a minuscule number when it comes to popular smartphone releases, let's not forget that the Galaxy Fold costs almost $2,000 (it retails for the equivalent of $2,014 in South Korea) and in its current form is largely considered a niche device.
The telecoms also share some demographic data about the users that were most eager to snatch the foldable phone as soon as possible. While the price tag and the form factor might suggest well-off middle-aged businessmen will be the ones to use them the most, in reality, the preorders went to people in their
20s
and 30s. There's no surprise when it comes to the gender distribution, however, about 90% of the devices were bought by men.
The following days and weeks will be critical for the Galaxy Fold. It took just days for the
flaws of the initial design to become apparent
. Now that it will become a daily driver for people, we'll be eager to see if reports about damaged displays or other issues will start popping up.
The next wave of orders will be fulfilled starting September 18 with another one following 8 days later. In the States, the official release is expected towards the end of September as well with some people receiving a $250 credit after
their preorders were canceled
.
By then it should be clear exactly
how durable
Samsung managed to make the Galaxy Fold. While Samsung and other companies are already committed to making foldable devices, it will be nice to see that people who spent so much on their new phones are happy with the experience.