Samsung to launch two F series smartphones on April 5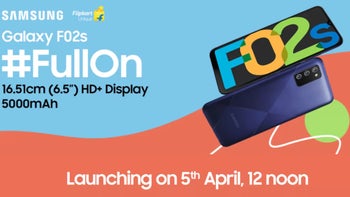 Samsung
is just days away from another important launch, two F series smartphones will be officially introduced early next week, the Galaxy F12 and Galaxy F02s. Both are aimed at Indian consumers and they'll be available for purchase through the local Flipkart retailer.
The two phones launching in India on April 5 belong to the mid-range class and they'll probably never be available outside this country. As far as the price goes, we don't have anything official yet, but it looks like they'll sell for prices starting at $120.
On to the juicy bits, the Galaxy F12 seems to be the better-geared of the two. The smartphone boasts a huge 6.5-inch HD+ Infinity-V display with a 90Hz refresh rate and an impressive 48-megapixel main camera.
There is no info on the camera
, processor, and amount of memory though.
Moving on to the Galaxy F02s, this one has a similar display and a rather generous 5,000 mAh battery.
Flipkart also revealed
that the mid-range device is equipped with a Qualcomm Snapdragon 450 processor and a 13-megapixel triple camera.
Samsung Galaxy F02s is said to pack 3GB RAM and 32GB storage, or 4GB RAM and 64GB storage, depending on the model. The former will sell for the equivalent of $120, while the latter will cost around $135 outright.
We're waiting for Samsung and Flipkart to unveil more details about the Galaxy F12 and Galaxy F02s, but customers will certainly be able to order either of these two mid-range handsets starting April 5.