Samsung Continuum and Samsung Galaxy Tab dummies arrive at Verizon
2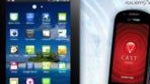 Next Thursday promises to be an exciting day at Verizon's retail stores. The nation's largest carrier will be launching a
number of devices
including the Motorola DROID Pro, the Motorola DROID 2 Global, HTC Merge, Samsung Continuum and the Samsung Galaxy Tab.
For those interested in the latter two Samsung devices, you can run over to your local Verizon store and check out the dummy models of those two devices. The Continuum features what the Korean based manufacturer is calling the "Ticker" which is a 1.8 inch Super AMOLED screen near the bottom of the phone that has resolution of 96 x 480 pixels. The "Ticker" will show you alerts and messages without running your battery down. Some accessories for the phone have already been arriving at Big Red's retail locations.
The Samsung Galaxy Tab has been dissected in every possible way since its introduction. Needless to say, Verizon has high hopes for the 7 inch tablet, powered by Android 2.2. With front and rear facing cameras, Adobe Flash Player and a more pocketable form factor, the tablet should attract those who think that the Apple iPad is too cumbersome.
With a large number of devices to choose from next Thursday, Verizon customers need to decide which model to buy. By checking out the dummy units at the store, you might be able to eliminate some of the potential names now to make your actual purchase go more smoothly.
source:
DroidLife
Recommended Stories