Samsung Galaxy Tab for the U.S. Review
5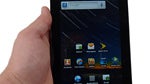 This is an overview of the Samsung Galaxy Tab for the U.S. market. For an in-depth look at the device, see our
review of the European version
, since it's almost identical.


Introduction and Design:
We took an
in-depth look at the European version of the Samsung Galaxy Tab
just a few weeks back, and now it has landed in the States. While the device remains mostly unchanged we'll take a brief look at the Sprint offering of this Android 2.2 tablet to see if it's worth your hard earned money and name on the dotted line. While the radios in this device are different from other US offerings, the overall experience remains the same across the carriers.
The biggest change the Samsung Galaxy Tab underwent while making its way across the pond is
the loss of a voice radio
(at least officially.) We really can't see many people using a device this large as a phone; tablets are internet devices and smartphones are phones, so we can't say we're too disappointed by this. For those who absolutely must use this as a phone, you can download Skype, though Verizon users will find this application is actively blocked by Big Red.
The Samsung Galaxy Tab is immediately going to get
compared with the iPad
and the first thing that jumps out at you is the comparative size of the Tab. The iPad's display clocks in at 9.7" and is much more squared off. The Galaxy Tab, on the other hand, has a
7" screen
and is a very long device. It's light and thin and fits very well in your hand, much better than the iPad. The Galaxy Tab is more similar to the Amazon Kindle in terms of size, and that is something we like. The decreased size of course means a smaller screen, but for what we do on this 7" is sufficient for our needs whereas 10" is a bit large. You, of course, will have your own opinion on this subject, but the Galaxy Tab can easily share a hand with your morning cup of coffee which isn't something we can say about the iPad. We wish the 1024x600 display was Super AMOLED, but the LCD used by Samsung is still quite nice. Viewing angles, brightness and color were all quite good. Ebooks and newspaper articles were quite easy to read, and the widescreen resolution is better suited to video content.
Recommended Stories