Samsung Behold II was an Android handset that was the sequel to a feature phone
6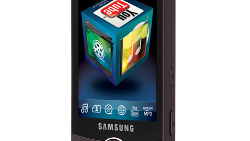 The
Samsung Behold
was a T-Mobile exclusive feature phone that launched on November 10, 2008. It was known for its 5MP camera (rear-facing only in those days) and a cool commercial featuring the song "Silly Boy" by The Blue Van. By the time the sequel was ready to be launched a year later, Android phones were ready to make some noise. The game changing
Motorola DROID
was about to be launched on Verizon, and T-Mobile was about to launch the
Samsung Behold II
which would make the switch to smartphone status using Android.
The Behold II was equipped with a 3.2-inch AMOLED screen, .2 inches larger than the original model. The display was protected by Gorilla Glass, and had a 320 x 480 resolution. 200MB of internal storage was inside, although a 16GB capacity microSD slot was available. A 2GB microSD card was included with the purchase of the phone. The screen-to-body ratio was 47.1%, much lower than the ratio seen on current phones which ranges from 65% to 91%.
As we pointed out, the OG Behold was known for its 5MP rear snapper and the Behold II also was equipped with a lone 5MP shooter on its back. A 1500mAh battery kept the lights on, and Android 1.5 Cupcake was pre-installed. The phone had cube navigation and the user could randomly open one of six features (YouTube, Amazon MP3 Store, browser, photos, video and music) by shaking the device which would stop the rolling cube on one of the six options.
Not having the latest Android build had to negatively impact sales, especially since the DROID was carrying Android 2.0; it was this build of Android that captured the public's attention. No other Behold model was made after the Behold II. We gave the Samsung Behold and the Behold II each a 7.5 in our reviews. You can check out some video related to the phone, including the ad for the original Behold (boy does that bring back memories) by clicking on the video slideshow below.