Russia to be among the first countries to land Apple Music?
9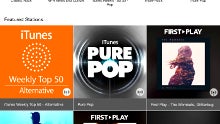 Apple Music is reportedly the name
of Apple's soon to be announced music streaming service. Apple apparently has plans to roll out the service on a global basis. According to music-centric publication
Billboard
, Russia will be among the first countries where the new feature will be launched. This information comes from Russian business paper
Vedomosti
which said that Apple was negotiating with several leading record labels in the country. Some of these talks revolve around expanding Apple's digital rights to include streaming music in Russia.
Streaming music is a growing, albeit small industry in Russia. Revenue from streaming music grew 214% in 2014 to $5.97 million. But Apple Music rival Spotify canceled a planned move into Russia due to the slumping economy, the declining Ruble, and new laws offering protection to personal information and data. Another obstacle that Apple might face is a new operating system allegedly being built by the Russian government that will compete with iOS and Android.
Apple Music will also have to compete with home-grown music streamers in Russia like Yandex Music and Zvooq. Other players in the country include Google Play Music and Australia's Guvera. Apple is rumored to be considering a one to three month free trial for consumers looking to test its new music streaming service. Apple Music is expected to be unveiled next month at WWDC.
source:
Billboard
via
BGR