Rumor: iPad Pro CPU orders placed with Apple supplier
5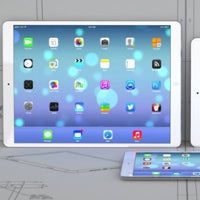 The Taiwan Semiconductor Manufacturing Company is rumored to have signed another deal with Apple, regarding the building of A8X chips, which would go into an iPad model that'd be launched in early 2015. This rumor has led some to believe that the iPad in question could be the long rumored iPad Pro (or whatever Apple chooses to name the 12.9" tablet, if it ever produces one).
TSMC is responsible for the
iPhone 6
's 20-nm-process-built A8 chips and is currently still busy churning them out, due to the flagship's
fast roll-out
and
record-setting demand
. Rumors say that the A8X that the manufacturer is supposed to produce will employ the same 20 nm process, but will be larger than the A8, which, according to the leaksters, could cause trouble with the production yield.
We are unsure what to make of this, as an A8X has already
been spotted
on an alleged iPad Air 2 PCB board. It has been a habit of Apple to put an X in the name of SoCs that go into their flagship tablets, excluding the
iPad Air
, which sported the same A7 processor as the
iPhone 5s
. So it's not hard to believe that the iPad Air 2 that is expected to be announced tomorrow, will carry an A8X under the hood. If this is so, then the A8X should already be in production - then what chip is TSMC made a deal to work on?
More conflicting rumors about the 12.9", it seems. If it turns out that the iPad Air 2 is powered by the same A8 as the iPhone 6, then the iPad Pro rumor may just gain some more weight. For now, it just sounds like hearsay.