Apple sells a ton of iPhone 6 units – Foxconn has a hard time following
27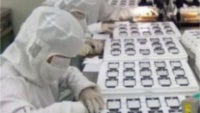 Apple's iPhone 6 pre-order launch was a success, with
more than 4 million sales
in the first 24 hours. All the pre-sale units have now been sold out and are on backorder, which may last for up to 4 weeks, depending on the model you are after.
Meanwhile, Apple's main device assembler – Foxconn – is struggling to meet the demand for the new smartphone models. The manufacturer has 100 assembly lines running around the clock in its largest production site in Zhengzhou, China. There are more than 200,000 workers at the site, all allocated to the production of the new
iPhone 6
and
iPhone 6 Plus
models.
An anonymous source told The Wall Street Journal that all this effort yields 400,000 iPhone 6 models and 140,000 iPhone Plus models per day. As a result, the waiting time for iPhone 6 models is listed to be around a week, whereas the apparently-harder-to-produce 6 Plus models will take 3-4 weeks to get to the hands of anyone who orders them now. The source says that Foxconn is trying to boost the Plus' production, but a shortage of 5.5" displays is slowing it down.
The culprit for the lack of displays is production issues with the complex in-cell technology Apple uses for its displays. It is a tech that integrates touch sensors into the display, which omits the need to add an extra touch-screen on top, allowing for a much thinner and lighter display glass. This, however, is still a hard tech to implement and a lot of the yield is discarded by QC. The 4.7" displays come out fine – with an 85% output rate, however, the 5.5" glass seems to be a problem, as its output rate is only 50%-60%, which means that almost half of the produced displays are deemed defective or below the required quality.
source:
TheWallStreetJournal