Rumor: Samsung Galaxy S6, Galaxy S6 edge U.S. pre-orders double the amount tallied last year
34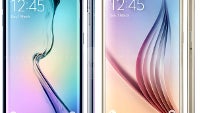 According to a new rumor, the number of pre-orders for the
Samsung Galaxy S6
and
Samsung Galaxy S6 edge
in the U.S. are more than double the number of phones reserved in the states last year for the
Samsung Galaxy S5
. After the Samsung Galaxy S5 was met with a lukewarm response in 2014, Samsung reportedly
started Project Zero to rebuild the flagship model from scratch
.
Replacing the plastic build with a metal frame sandwiched by two pieces of Gorilla Glass, Samsung went for form over function. The removable battery cover is gone as is the microSD slot. But there are solutions to both. Samsung is offering the Galaxy S6 and Galaxy S6 edge with storage options of 32GBG, 64GB and 128GB which means that the phones are available with enough native storage to keep even app hoarders happy. And portable power banks are available to enhance the battery life of both models.
Samsung obviously made the right decisions. The manufacturer is looking for ways to keep supply matched up best it can with demand for the handsets. One rumor has Samsung eager to triple the production of the Galaxy S6 edge so that supply doesn't fall hopelessly behind demand. In other words, the Samsung Galaxy S6 and Samsung Galaxy S6 edge are both red hot.
Unfortunately, we don't have precise numbers to share, but the gist of the report isn't hard to compute. Samsung has broken free from the malaise that seemed to affect the company's entire mobile division in 2014, and seems ready to take on all challengers including HTC, LG, and even Apple. Like Samsung, Apple has also been re-energized thanks to the larger sized screens available with the
Apple iPhone 6
and
Apple iPhone 6 Plus
.
T-Mobile, AT&T, Verizon, Sprint and U.S. Cellular started accepting pre-orders for both the Galaxy S6 and Galaxy S6 edge last Friday along with the Samsung Collection at Best Buy. The phones should be available to be picked up on April 10th.
We should point out that the report isn't clear whether the first four days of pre-orders for the Galaxy S6 and Galaxy S6 edge doubled the total amount of U.S. pre-orders for the Samsung Galaxy S5, or whether this year's pre-orders to date were compared with the first four days' total from last year. Either way, the results so far have been extremely impressive.
Thanks for the tip!
source:
Naver
(
translated)
via
GforGames