Rochester Optical unveils prescription lens technology for Google Glass
1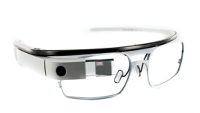 Rochester Optical, beating Google to the punch, will soon start offering prescription lenses for Google Glass. So how does this all work? The Glass Prescription Lens Carrier (GLPC) clips onto the bridge of the connected specs, and will contain the prescription lens. The carrier is priced at $129 with a single-vision lens starting at $99.
The ingenuous system keeps you from having to use a screwdriver to take out screws, as is likely with Google's own prescription lens technology. Rochester will offer many options for the prescription lens, some more expensive than others. Options will include bi-focals, transitions, tinted lenses and the GLPC itself will come in eight different shapes and colors such as black, white, red, orange, cyan, royal blue, silver, and grey.
Rochester will start taking orders for the GLPC in late January and will start shipping early next month. As you might have guessed by now, Rochester Optical will have the whole kit and kaboodle on display at CES.
source:
Forbes