Report: Second-generation Apple Watch to begin trial production shortly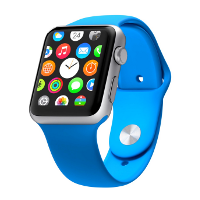 According to a report out of Taiwan, Apple is getting ready to start trial production of the second-generation
Apple Watch
. While contract manufacturer Quanta will be assembling the timepiece, once production begins in earnest we could see other manufacturers like Foxconn, Wistron and Inventec building the next Apple Watch.
With speculation that Apple will be holding a press event in March to introduce the second-generation Apple Watch, Quanta's chairman said late last year that the device would be launched during the second quarter of 2016. While that would cover April through June, an April release of the smartwatch seems most likely. There is talk that the second-generation Apple Watch will be a stand-alone timepiece that will make and take phone calls.
If the second-gen Apple Watch is in trial production, a small number of units will be built to make sure that the watch is rolling off the assembly line exactly as it should be. Apple and Quanta will check to make sure that the devices are operating perfectly and that the yields are acceptable. Once Apple signs off on the trial production phase, we could see mass production of the product start as it heads toward a March unveiling and an April launch.
Apple Watch Review
source:
AppleInsider