Report: Force Touch, fingerprint sensors to be popular features on 2016 Android smartphones
99+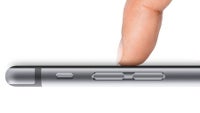 We've already seen fingerprint sensors become almost a standard feature on new mid-range and high-end Android smartphones. According to sources with the Taiwan handset supply chain, Force Touch will also be another popular feature found on new phones in 2016. Force Touch allows the screen to differentiate between a light touch, a regular touch and a heavy touch.
Apple's implementation of the feature, called 3D Touch
, allows users to tap the screen lightly to "peek" at an application, while a heavier tap will "pop" the user into the app.
The fingerprint sensors will become extremely popular as mobile payment services like Apple Pay, Android Pay and Samsung Pay start taking off. Taiwan based integrated circuit designers are expected to greatly benefit from the increasing demand for the biometric feature. The fingerprint scanners are used to verify the identity of a person making a mobile payment.
Unlike the fingerprint scanners, which can be found on mid-range Android handsets, Force Touch should remain a feature found on high-end Android units in 2016.
source: Digitimes