Report: 90 million wearables to be sold in 2014, even more in 2015
5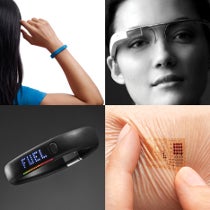 According to ABI Research, a market analysis and intelligence agency, more than 90 million wearable gadgets will be sold this year, mostly health-oriented fitness companions and activity sensors. ABI Research also claims that smart glasses, watches, and even smart clothing are "the next big thing" in consumer electronics. In addition, wearable gadgets that revolve around healthcare are becoming extremely popular due to the increased self-awareness about one's overall health, ABI says.
ABI Research also claims that the increased diversity of hardware vendors will allow even fledgling and underdeveloped manufacturers to release their own wearable gadgets and compete with the major players in the industry. The research company claims that smart watches and glasses won't be a big hit on the market – however, it is expected that more than 2 million smart glasses will be sold in 2014 and the demand for such wearable devices will increase in 2015.
"The next twelve months will be a critical period for the acceptance and adoption of wearable devices,"
says Joshua Flood, an ABI Research senior analyst.
"Healthcare and sports and activity trackers are rapidly becoming mass-market products. On the flipside, wearable devices like smart watches need to overcome some critical obstacles. Aesthetic design, more compelling use cases, battery life and lower price points are the main inhibitors. How vendors approach these challenges and their respective solutions will affect the wearable market far in the future."
Would you rather buy a smart watch/smart glasses or a wearable fitness sensor?
Check out our pick with some
of the more interesting wearables that were announced at CES 2014 and let us know in the comments section!
source:
ABI Research
via
DigiTimes