Real-life images of the Xiaomi Redmi Note 5 leak out: 18:9 display, dual cameras
11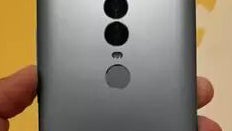 One of the latest trends in the smartphone industry is throwing tall, 18:9 displays up front. For one reason ore another, some manufacturers claim they do that due to the obviously-impending arrival of 2:1 multimedia content whereas others are merely following suit for no explicit reason whatsoever. That said, one noteworthy upside of devices donning such display is simply how easier are they to handle compared to similarly-sized 16:9 devices. But we digress...
One of the possible newcomers to the 18:9 scene is none other than China's Xiaomi, which is reportedly looking forward to releasing its first device of the type very soon. Supposedly, said device will be none other than the Xiaomi Redmi Note 5, which might also be flaunting a dual camera at the rear. Aside from the tall display and the dual-camera setup at the rear, the device is also seemingly boasting rather thin bezels at the front. How are we able to tell?
Well, a pair of real-life pictures have popped up, giving us a look at what could be the upcoming Redmi Note 5. Aside from everything mentioned so far, the phone is also boasting signature Xiaomi metal design. You can check them right below.
Aside from that, we don't seem to know anything else particularly interesting pertaining to the phone. Rumors put a Snapdragon 660 or a MediaTek P25 inside, as well as a hefty 4,000mAh battery to top things up. As usual with Xiaomi's mid-range device, 3 and 4GB versions of the device are expected to make the rounds.
As we know more, so will you.