Powerful Razer Phone gets a huge price cut (limited time offer)
1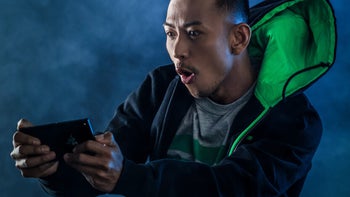 If you only have $400 to spend on a new unlocked phone and you need powerful specs, you should consider buying the Android-based
Razer Phone
. Normally, this handset is sold for $699.99, but Razer currently takes a whopping $300 off its price, thus offering it for just $399.99, US warranty included. This is a limited time offer that will expire on Sunday, September 9.
To save $300 on the Razer Phone, you have to purchase the device from Razer's official website (see the source link below) and use the promo code WOOHOO at checkout. It looks like both variants of the handset - standard black edition and limited gold edition - are included in this deal. Meanwhile, other retailers, including Amazon and Microsoft, are asking $549.99 for the phone.
The
Razer Phone
may not have the modern design of other high-end handsets currently on the market, but it's definitely an interesting, powerful device. The smartphone offers 8 GB of RAM, a 5.7-inch Quad HD
screen with high refresh rate
(perfect for gaming), a Qualcomm Snapdragon 835 processor, and plenty of other attractive features. Do keep in mind that the handset is compatible with T-Mobile and AT&T, but you can't use it on Verizon or Sprint.
This substantial price cut certainly has something to do with the fact that a
Razer Phone 2
is coming soon. The upcoming Razer handset should be released before the end of the year, apparently bringing incremental upgrades (like a Snapdragon 845 processor).