The Razer Phone has an awesome 120Hz display, and here's how it works
38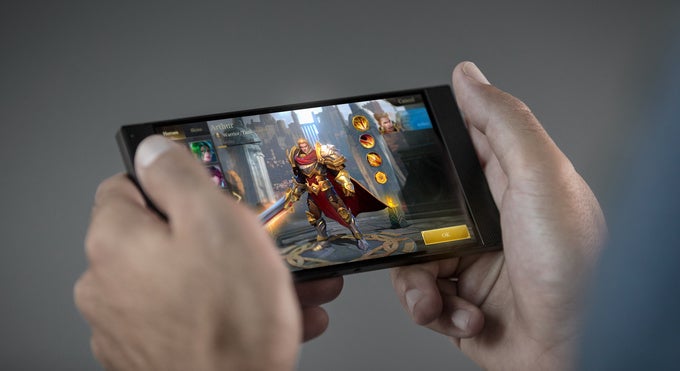 Razer made headlines this week with the announcement of a new product (whose list of design features somehow lacks an array of rainbow-colored LED lights). The
Razer Phone
, as it is called, is essentially a phone made with high performance in mind – one built around top-notch hardware specs a passionate mobile gamer would demand. One component in particular – that 5.7-inch "UltraMotion" display – makes Razer's first phone unique and even more worthy of attention than it already is.
So what's the big deal, you might be wondering. Long story short, the Razer Phone's screen is capable of displaying noticeably smoother, more fluid visuals when moving objects are shown on screen, much like a higher-end computer monitor. It is a difference you can't unsee – one that makes anything from scrolling through your Twitter feed to riding a hydrojet in Riptide GP Renegade even more enjoyable. But how does all the magic happen?
The illusion of movement
A warning is due at this point: we're about to dive into the technicalities of how displays work, but fear not, as we'll try to keep things as simple as possible.
First and foremost, it is important to understand that movement – or the illusion of it – is created by displaying a series of images (or frames) in a rapid succession. The animation shown here, for instance, is drawn at 10 frames per second (FPS). Basically speaking, the higher the frame rate, the smoother the motion would appear to the human eye. This is why your phone's interface, which ideally runs at around 60FPS, looks much more fluid than this 10FPS movie clip.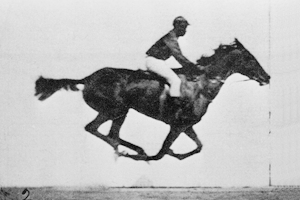 Hooray for horses!
Frame rate vs refresh rate
A GPU (graphics processing unit) in a smartphone is tasked with rendering frames, and it does that as fast as it can because a higher frame rate results in smoother motion. By nature, this frame rate isn't constant. It may drop below the ideal 60FPS the system aims for since complex graphics require more time to be rendered.
At the same time, the screen has a specification called a refresh rate – the rate at which visual information is updated line by line. The refresh rate is usually a constant value, and for most of today's displays, it stands at 60Hz or 60 refreshes per second. This process is too fast to be visible with a naked eye, so to show you what a refreshing screen looks like, we pointed a high-speed camera at a computer's LCD display. You can see how the screen refreshes from one frame to the next one line at a time.
To sum things up, the rate at which a GPU draws frames does not match the rate at which the screen displays them. That's not a good thing. In fact, it may cause perceivable delays and stuttering – not something you want while gaming. These issues are caused by the fact that the GPU might finish rendering a frame in the middle of a display refresh cycle. This will result in a lag of up to 16.6 milliseconds until a new frame is finally drawn – the Android system is designed to wait for the beginning of the next display refresh cycle to render the frame. Sure, 16 milliseconds do not sound like much, but the lag can be noticeable, especially in a fast-paced gaming session.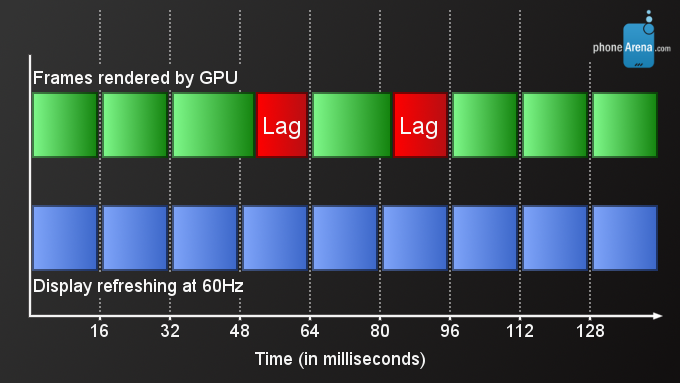 When a frame takes longer to render, a noticeable lag may occur.
Razer's solution: UltraMotion display tech and 120Hz refresh rate
There are two key factors that minimize lag and make visuals smoother on the Razer Phone's UltraMotion display. Firstly, the screen and the GPU are in sync. Instead of being set to a fixed refresh rate, the display dynamically sets its refresh rate to match the output of the GPU. This eliminates the potential for lags and stuttering to occur.
Secondly, the display on the Razer Phone supports a refresh rate of up to 120Hz. A typical 60Hz display cannot effectively display over 60 frames per second due to its refresh rate limitation. The Razer Phone, however, can display up to 120 frames per second thanks to its higher refresh rate. And the higher the refresh rate, the smoother moving objects would appear in compatible games and apps.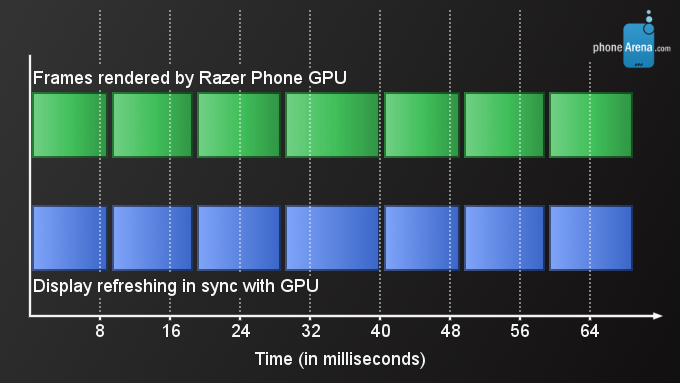 The Razer Phone display sets its refresh rate in sync with the GPU's output
The fine print: compatibility and power consumption
There's no denying that Razer's phone is on top of the display tech game. We're also confident that displays with higher refresh rates will become more and more popular within the high-end smartphone segment. But today's apps and games might not be capable of taking full advantage of the Razer Phone's UltraMotion display.
To be clear, on the Razer Phone you should expect seeing smoother visuals in all kinds of activities thanks to the display's dynamically adjusted refresh rate. But for now only few games will tap into its ability to display up to 120 frames per second. Sure, the number of compatible titles is only going to grow over time, but the majority of game titles right now are hardwired to run at no more than 60 frames per second. Games that will run at up to 120FPS on the Razer Phone include Final Fantasy XV Pocket Edition, Gear.Club, Lineage 2: Revolution, Runescape and Old School RuneScape, Shadowgun Legends, Tekken, Titanfall: Assault, and World of Tanks Blitz, as well as the upcoming Arena of Valor.
It must be also mentioned that running the screen at higher refresh rates would increase its power consumption. We're not sure how much of an impact on battery life this would have, but we do know that Razer has built in a setting that lets us set the balance between performance and battery life. Also, the user may set the refresh rate to a fixed value of 60, 90, or 120Hz, if they desire.
READ MORE ABOUT RAZER PHONE: