RIM acquires TAT for crafting the user interfaces on the BlackBerry Playbook and smartphones
2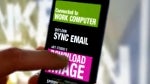 The Astonishing Tribe (TAT) is a Swedish user interface designer shop, that has a lot of innovative projects under its belt. As a part of the Open Handset Alliance, TAT has worked on the Android UI, and its creations can also be seen in automotive applications and mobile technologies, among others.
TAT were recently chosen by Fujitsu for developing the user interface on its innovative
dual-screen phone
, a video of which can be seen below. Dual-screen requires a whole new paradigm for the UI to take advantage of the separated real estate, and it seems that TAT has delivered on that front.
RIM announced that the The Astonishing Tribe team will be joining it in the quest to create innovative and functional interfaces for its upcoming
PlayBook tablet
, as well as the BlackBerry smartphones. Usually when we see a TAT concept designs, they are out of this world; with the backing of the flexible QNX operating system that will be on the BlackBerry PlayBook and smartphones from now on, the sky is the limit here.
Below is also a video of TAT's concept, called "Future of Screen Technology", showcasing what gadgets will be able to display a few years from now. Extendable PlayBook, here you come; at least easier to believe than Sweden winning the World Cup in 2014, as the video implies.
source:
RIM
Recommended Stories