QNX CEO hints to the possibility of a 4G enabled BlackBerry PlayBook
This article contains unofficial information.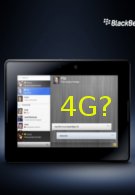 As we've all heard today,
RIM officially unveiled their BlackBerry PlayBook
and is already looking to be one peppy device that'll be offered as a Wi-Fi only model at first – with an eventual move to 3G/4G down the road.
During today's events that took place at DevCon, there were some fireworks naturally being lit as RIM kept on talking about all the features of their tablet device, but it appears there were some intriguing things said during the Q&A session of the event. In fact, QNX CEO Dan Dodge took the liberty of answering a question about the kind of cellular connection the PlayBook will be offering.
Dodge said, "You can infer. There's a roadmap of planned releases moving forward. The first version is Wi-Fi. The question you should be asking before that is 'when is the version coming out with 4G?' But don't ask that question, because we aren't going to answer it. Other than that, 'What does RIM do as a company? What is their expertise?' "
Although those remarks could be anything but far from an official confirmation to the possibility of a 4G enabled PlayBook, it does make you wonder what kind of plans are in store in relationship to the eventual sprout of 4G networks that should become abundant next year.
via
IntoMobile