RIM PlayBook bigger than Ted Williams? Device makes appearance on Live! with Regis and Kelly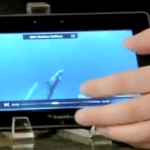 For those of you who have been asleep or under a rock for the last month, Ted Williams is a former homeless man with a golden radio voice. After quitting drugs, a YouTube video that displayed those golden pipes of his went viral and propelled Williams into the national limelight for his 15 minutes of fame. Not to be confused with the decapitated baseball hall-of-famer with the same name, Williams quickly lined up a $10,000 job to do voice over work for Kraft Macaroni and Cheese and was offered a job as the voice of the Lebronless Cleveland Cavaliers of the NBA. Job offers came flying his way. When Williams first garnered the national attention, he made the rounds from morning show to morning show.
So who-or what-will capture the next 15 minutes of the national spotlight? How about the RIM BlackBerry PlayBook? Fresh off
its appearance at the CES in Las Vegas
, on Tuesday the first tablet made for business (according to RIM) was brought along to Live! with Regis and Kelly by Leo Laporte as he reported on some of the products that captured a buzz at the Las Vegas show.
source:
Crackberry