Qualcomm reveals Asus Zenfone AR before official announcement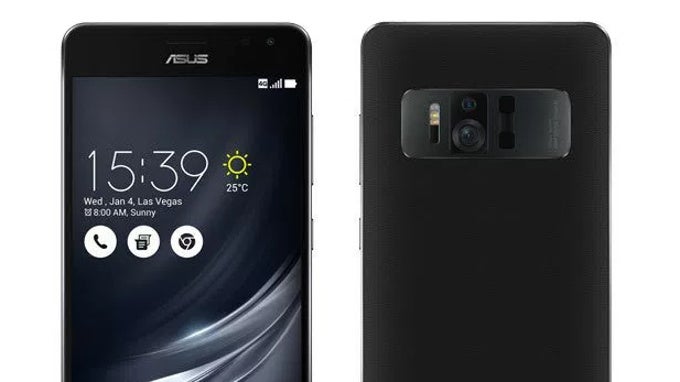 Qualcomm has just outed the Asus Zenfone AR, right before its official announcement that is expected to happen very soon.
Qualcomm has simply inadvertently put out a press release about the upcoming Asus Zenfone AR, and it confirms the earlier leaks: yes, this will indeed be the first device that is both Google Tango and Google Daydream-ready. Tango is Google's platform for indoor mapping, while Daydream is the company's advanced virtual reality system.
The new Asus Zenfone AR is also confirmed to run on the Snapdragon 821 system chip, a change from earlier rumors that suggested it might be the first phone to get the new Snapdragon 835 SoC.
There is not much in terms of specifications in the presser, so stay tuned for that coming at a later time.
An interesting new tid-bit that Qualcomm shares here is also the fact that all future Snapdragon 8xx and 6xx chip will support the Google Tango platform.
Asus has an official press event on January 4th, right as the Consumer Electronics Show (CES) 2017 kicks off. Stay tuned for that.
At CES 2017, ASUS announced the ZenFone AR, the world's first Tango-enabled smartphone to be powered by the Qualcomm Snapdragon 821 processor. It will also be the world's first mobile device to be both Tango-enabled and Daydream-ready. Tango is a set of sensors and computer vision software that supports smartphone augmented reality experiences. Daydream is Google's platform for high quality, mobile virtual reality.

Only Snapdragon processors power commercial Tango-enabled devices

The ZenFone AR is the second commercially available Tango-enabled smartphone. The Lenovo PHAB2 Pro, powered by the Snapdragon 652 processor, was the first, launched in June, and is available now. The Snapdragon 652, 653, 820 and 821 processors all support Tango, and so will future Snapdragon 800 series and 600 series processors. All of these processors have a few things in common in terms of their leading ability to support Tango:

Snapdragon processors are engineered to support computationally intensive Tango use cases that involve motion tracking, depth perception, and area learning using cutting-edge computer vision, graphics and sensor processing. All Tango-related processing is done on a single, highly efficient SoC (system-on-a-chip), so users of the ZenFone AR can enjoy high-performance smartphone AR user experiences with long battery life. Premium-tier Snapdragon 821 support for Tango

Snapdragon 821 processors are designed to bring a few significant advantages to Tango and the ZenFone AR, including:

Better graphics: Whether you're using Tango to measure, game, or virtually shop, having better, more realistic looking graphics is going to enhance your smartphone AR experience. The Qualcomm Adreno 530 GPU in Snapdragon 821 brings a 40% improvement in graphics performance at 40% less power than the Snapdragon 810. So you can get more hours of augmented reality along with great graphics on the ZenFone AR. Better overall performance and power efficiency: One of the incredible things about Tango on Snapdragon is how well 3D graphic overlays match up with actual physical surroundings. It's a really important capability for smartphone AR; it's hard to decide whether that refrigerator is going to work in the kitchen, or hit that game target on your dining room table if 3D graphic overlays aren't tracking quickly, smoothly, and accurately to the actual physical surroundings. Fast, efficient sensor processing is key to this, as is time stamping all of that sensor data within + or – 50 µs accuracy, using the Snapdragon global high-frequency clock built into hardware. The Qualcomm Hexagon 680 DSP with HVX and Qualcomm All-Ways Aware sensor hub are instrumental to the fast, efficient sensor processing of Snapdragon 821. The combination of Hexagon DSP, Qualcomm Spectra ISP and the ultra-low power All-Ways Aware sensor core, are particularly useful for accelerating Tango computer vision use cases.

The Hexagon 680 DSP includes the first implementation of HVX – Hexagon Vector eXtensions, or wide vector SIMD extensions, which are DSP extensions for advanced imaging and computer vision. HVX is designed to handle significant compute workloads for image processing applications such as virtual reality, augmented reality, image processing, video processing, and computer vision. This means that tasks that might otherwise be running on a relatively power-hungry CPU or GPU can run on a comparatively efficient DSP instead.

The integrated All-Ways Aware hub is dedicated for always-on sensor processing, supporting ultra low-power "always-on" context awareness, even when the SoC is off. This is how the Snapdragon 821 processor is able to perform the highly accurate and uniform time stamping of the camera frames and sensor data to the same time reference. The always aware hub is also used for vision processing and generating 6 degrees of freedom (6DoF) positioning used in Tango and other AR applications.

Support for Tango and Daydream

The ZenFone AR will be the world's first Tango-enabled and Daydream-ready mobile device. With Zenfone AR and the Daydream View headset and controller, you'll be able to explore new worlds with apps like Google Street View and Fantastic Beasts, dive into your personal VR cinema with YouTube, Netflix, Hulu and HBO, and get your game on with Gunjack 2, LEGO BrickHeadz, Need for Speed and dozens other titles. The ZenFone AR with Snapdragon 821 is built for VR with high-resolution display, ultra-smooth graphics and high-fidelity sensors for precise head tracking. Snapdragon 821 provides the cutting-edge visual, audio and interactive technologies required to deliver truly immersive mobile VR experience for leading Android smartphones.

Visit Qualcomm's booth (#10948) at CES for a closer look at the ZenFone AR. Follow us here [link to CES page] for more Qualcomm Technologies news at CES.
Recommended Stories