Qualcomm announces Quick Charge 4.0+ featuring three new enhancements
15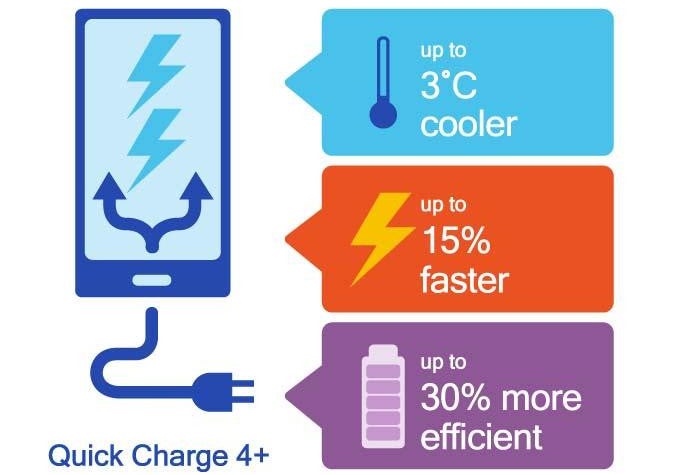 It's been six months since Qualcomm introduced its new
Quick Charge 4.0 technology
, which faster charging than its predecessor, allowing a smartphone to go from empty to 50% in just 15 minutes.
Well, it appears that Qualcomm has managed to stuff in new enhancements to its quick charge technology, but not so many or so important to call the new product Quick Charge 5.0. As such, Qualcomm unveiled the new Quick Charge 4.0+, which mainly offers three significant improvements over the last year technology.
The first one is called Dual Charge, which is present in previous versions of the technology but is now stronger than even. With Dual Charge, the charge current will be divided allowing for lower thermal dissipation and reduced charge time (up to 15%).
Then, there's Intelligent Thermal Balancing, which conducts current via the coolest path autonomously, thus eliminating hot sport for optimized power delivery.
Lastly, some advanced features have been implemented as well, which are meant to enhance safety during charging. For example, Quick Charge 4.0+ can monitor both the case and connector temperature levels at the same time, which should prevent overheating and short-circuit, or even damage to the Type-C connector.
Thanks to these three new improvements, Quick Charge 4.0+ can charge a device up to 15% faster, and it's 30% more efficient when compared to
Quick Charge 4.0
.
According to Qualcomm, the first smartphone to include the new Quick Charge 4.0+ technology is the Nubia Z17, which was unveiled earlier this week. The handset comes with a 3,200 mAh battery, a Snapdragon 835 processor, as well as 8GB RAM and 128GB storage.