Puzzle game Telepaint is the Free iOS App of the Week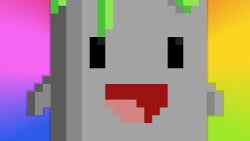 How would you like to download a puzzle game for your iOS device, and save some money in the process?
Telepaint
, which normally costs $2.99, is the Free iOS App of the Week. The game has you carrying walking buckets of paint through portals that you open. Different levels of game play get increasingly harder, and there are six different worlds for you to play in. An accompanying sound track provides synced rhythm, and there is an in-app purchase available so that you can purchase an extra-level for 99 cents.
Recently, an update added two new channels with 40 new levels. Also, the developer noted in the App Store that the game is having difficulties on the
Apple iPhone 5
and
Apple iPad 3
or less. A fix is said to be in the works.
If there is one thing that you can say about Telepaint, it is colorful. Different hues cover each level. Check out the game by clicking on the video at the top of the story, and by looking at the screenshots in the slideshow.
To download Telepaint,
click here
.
source: Apple