Production of Full HD AMOLED displays for the Samsung Galaxy S IV to be at full swing by the end of the month
17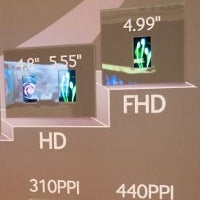 If we had to guess one unique feature that will be exclusive to the upcoming Galaxy S IV, or whatever Samsung decides to name it, Android leader, it will be the
new type of AMOLED display we saw at CES
- large,
without a PenTile pixel matrix
and with resolution matching the best of LCDs, like the
Full HD 5-inchers
that will be flooding the high-end range of the market this year.
Given AMOLEDs high contrast ratio, vivid colors and wide viewing angles, such a screen would be a sight to behold, and rumors are piling up that's what we are going to see in the Galaxy S IV indeed.
The latest confirmation comes from the Korean publication DDaily, which has leaked tips on LG and Samsung plans before - they cite sources close to the supply chain, who state that Sammy is preparing to launch the mass production of such 5" AMOLED Full HD screens, which they should, if the commercial launch is scheduled for April.
The source indicates that the FMM process used for AMOLEDs so far wasn't able to go as high in terms of resolution without using an alternative
pixel
matrix arrangement like PenTile, which gives preference to green, which out eyes are most sensitive to, for the sake of red and blue pixels. For the Full HD panel, Samsung is apparently using a different method of production - perhaps a combo of FMM and LITI methods - and
diamond-shaped pixels
arrangement than what was until now, and we can't wait to see the results, more so since the publication states we are likely to see the same type of display in the next Galaxy Note phone.