Samsung using diamond-shaped pixels for 440ppi+ AMOLED panels to debut in the Galaxy S IV
31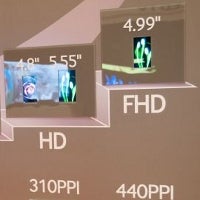 Hexagonal and diamond-shaped pixels? According to "industry sources" that is exactly what Samsung's been experimenting with to achieve ultra high 440ppi+
pixel
density for its smaller AMOLED display panels aimed to go in smartphones this year.
Samsung has been developing those by utilizing the Laser-Induced Thermal Imaging (LITI) production process, which is cheaper and allows for much smaller subpixels to be laid out than the conventional Fine Metal Mask (FMM) process it's been using so far for the Galaxy line, for example.
R&D had trouble scaling LITI for mass production, but now it seems that the issues might be behind it, as the hexagonal and diamond-shaped pixel matrices have allowed for much higher pixel densities than the conventional side-by-side layout, and we might see the result for the first time in the rumored Samsung
Galaxy S IV
5" Super AMOLED Full HD
panel.