Pressure from UK carriers leads to a lower price point for the Nokia Lumia 710 ahead of its release
1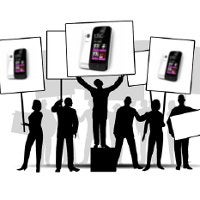 In a strange twist, it seems as though UK carriers aren't content with the prices associated with the
Nokia Lumia 710
– yeah, the same one that's selling in the US for a mere
$49.99 on-contract with T-Mobile
. Citing the
weak sales found with the Nokia Lumia 800
, deemed as the flagship Nokia device right now,
UK carriers
demanded Nokia to lower the price of the Lumia 710 even more.
Initially, the lower end the Windows Phone was expected to flaunt a $39 (£25) on-contract price point for its upcoming release in the UK, but its seems that pressure from carriers resulted in Nokia dropping its price to
$31 (£20)
. Granted that Nokia's higher end model in the Lumia 800 has been
selling well
over other comparable Windows Phones from HTC and Samsung's camps, it still doesn't quite graze the same level found with top-level devices like the iPhone 4S or Samsung Galaxy Nexus.
Now that it's going to be sporting a slightly lower price point, it might have a better time trying to attract consumers who aren't necessarily looking to buy a smartphone at this time. Well, rather than choosing a feature phone that's priced competitively, they might consider picking up the Lumia 710 instead – especially when it embodies all of the qualities
fitting for any first time smartphone user
.
Regardless of what else happens between now and its official release in the UK, it'll be interesting to see how the handset will sell now that it has been blessed with an even better price point.
source:
Financial Times
via
WMPoweruser