Nokia bullish on initial Lumia 800 sales, carriers not so sure
24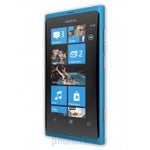 Nokia's Lumia 800 made its debut in the UK on Wednesday. Most analysts feel that riding on it are the hopes of both Nokia and Windows Phone 7. Given how much is at stake it's no surprise that Nokia had glowing things to say about the launch. Nokia spokesman Ray Haddow said that the level of preorders and consumer reaction "lead us to be very positive about the launch".
Insiders from two UK carriers that spoke off the record claimed that actual sales numbers are not so rosy, being far lower than the iPhone 4S and high-end Android devices. UK carrier Orange was a bit more positive, saying their pre-order numbers were quite good, although they noted that half of those had taken advantage of a give-away of a free Xbox 360 with their order.
It's probably not realistic to expect massive front-loaded sales. Windows Phone is still an unknown quantity for most smartphone buyers, and while Nokia is a popular brand in Europe they are creating something of a new brand identity as a WP7 OEM.
Nokia CEO Stephen Elop reinforced this sentiment, indicating that he expected sales to climb over time. Elop referred to the Lumia 800 as "not just another model", but "something brand new". The Lumia 800 has received
fairly positive reviews
, but it's not the first Windows Phone handset on the market.
We won't know for sure until hard sales numbers are reported. What do you guys think? Is Nokia looking at this with rose-colored glasses, or will sales ramp up over the coming months?
source:
Financial Times
via
The Verge