Presales for the iconic Motorola DROID PRO start on November 9
8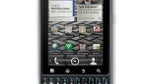 Verizon is instructing its staff how to handle a high demand "iconic device" that's hitting the stores very soon. Sorry, guys, it's not the end of the never-ending story of a Verizon-branded Apple iPhone, but rather a proof that Verizon will officially offer
Motorola DROID PRO
on November 9 for presale.
The presale period during which you can purchase the Motorola DROID PRO will run between November 9 and November 17, while shipping of the handset will start on November 10-11. If you want to know whether you are eligible, look at the quote below:
"Iconic Device pre-sales are only available to consumer and ELEU customers through My Verizon and direct sales channels."
For everyone else, there is the release date of November 18 when you can rush to the stores and taste the Motorola DROID PRO magic for the first time. There is no word of the pricing yet, although we sincerely hope
it's not the rumoured $300 price tag
.
source:
AndroidCentral