Motorola DROID Pro to wear $299 price tag at Verizon?
6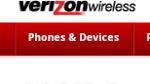 A test website has revealed some new information about the Motorola DROID Pro. The BlackBerry-esque Android device appears to have a 2 year contract price of $299.99. If this unit turns out being priced at that figure without a rebate, it would hold the dubious honor of being the highest subsidized price for an Android model, coming in about $50 over the price Sprint is charging for the Epic 4G after rebate and a signed contract.
The first thing that might come to your mind is how a 3.1 inch, 320 x 480 resolution screen that is not 4G enabled can cost more than a 4G device sporting a 4 inch Super AMOLED display with resolution of 480 x 800. It could have to do with the Motorola DROID Pro's CDMA/GSM chip set required for its global roaming function. Or perhaps it is just easier to pull $300 out of a company than it is to get that amount from a lone individual.
And just for those inquiring minds, it appears that Verizon has taken down the website, so we will have to see whether or not the price holds when the model is officially launched.
source:
Droid-Life