Pilot flying the new iPhone into the U.S. does his part to launch the phone this Friday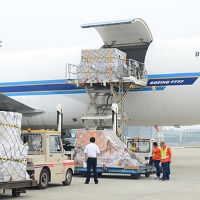 With 4 million
Apple iPhone 6
and
Apple iPhone 6 Plus
units pre-ordered, a large number of these handsets can be found in various stages of getting shipped, every day. One person, who flies freight for a living, was behind the controls for a shipment of 195,000 iPhones from China to Alaska. These units will eventually make their way to Chicago.
The shipment weighed in at 256,000 pounds. The phones are covered by a tarp, and are then loaded inside the plane. China Daily posted a picture of a different plane getting loaded with Apple's iconic smartphone, and in that photograph the devices are covered in a similar fashion. For those in Chicago waiting for their Apple
iPhone 6
or Apple
iPhone 6 Plus
to arrive, you should be pleased at the efforts made by the pilot to land a little bit earlier than scheduled.
"Yep, that's what I do. I fly stuff. Privileged to be a small part of the Apple supply chain. Just landed a 747 full of iPhone 6's in Anchorage. Another crew will take the airplane on to Chicago. It'll be on the ground at O'hare about 9am Sept. 15. I gave it a little extra gas coming over the Pacific, just to get them here a little quicker. You're welcome"-goforblacksky
source:
MacRumors
,
ChinaDaily
via
RedmondPie