Photo Translator for BlackBerry allows you to translate photographed text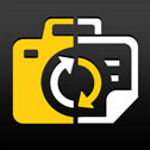 What could be easier when it comes to translating a foreign language? With the Shape Photo Translator, you use the camera on your 'Berry to snap a picture of the text. The app captures the photo and returns it with the language translated.
We could think of many places where a traveler could use this app, such as using it to read signs at the airport, or at stores. And right now, you can install the beta for free. There are separate downloads available for the BlackBerry Torch, both versions of the BlackBerry Storm and for BlackBerry models running OS 4.6 or higher. To get the beta version of the Shape PhotoTranslator, use your BlackBerry browser and click on this
link
.
source:
BlackBerryCool