Pentagon giving employees the option to dump their BlackBerry for an Apple iPhone or Android model
16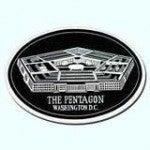 Currently, the majority of handsets allowed for use by Pentagon employees are BlackBerry models, but that could be about to change. During a press conference on Tuesday, Air Force Maj. Gen. Robert Wheeler, the Pentagon's deputy chief information officer, said that the agency is about to go "device agnostic," and while the Pentagon is not about to change its policy to BYOD, it will allow employees to use an Android or iOS device starting in February 2014. Actually, any operating system that can meet the tough requirements of the Pentagon will be be able to be used by employees and so far that includes
BlackBerry
,
iOS
and
Android
.
secure classified
and
protected unclassified
solutions using commercial, off the shelf devices to cut back on costs. At the same time, the devices should allow for personal productivity.
We've seen a number of corporations switch to iOS or Android from the BlackBerry platform along with
some governmental agencies
. The idea is to allow employees to use the same phone that they use at home to avoid the long learning curve that would be required for the use of an unfamiliar UI.
"The Department of Defense is taking a leadership role in leveraging mobile device technology by ensuring its workforce is empowered with mobile devices. As today's DoD personnel increasingly rely on mobile technology as a key capability enabler for joint force combat operations, the application of mobile technology into global operations, integration of secure and non-secure communications, and development of portable, cloud-enabled capability will dramatically increase the number of people able to collaborate and share information rapidly."-Teri Takai, Defense Department chief information officer
source:
DefenseDepartment
via
AllThingsD