Paris cab drivers to tie up traffic in the city all day Monday to protest court ruling on Uber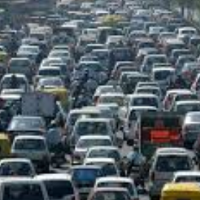 A Paris court on Friday refused to block car service company Uber, from operating its Uberpop carpooling service in the city. Using a smartphone app, someone in need of a ride is picked up at a specific location by non-professional drivers, and driven from city to city. Cabdrivers in France are upset at what they see as non-professional cab drivers pretending to be carpooling.
Professional cabdrivers in Paris are getting some revenge by conducting an "escargot" operation on Monday.. That means that the legitimate cabs will drive at a snail's pace from the two main airports in Paris, causing massive traffic jams on the major roads in the city. The protest is expected to last all day.
The legal victory in Paris is a rare one for Uber, as cab drivers throughout the world feel threatened by the company's use of apps and other technology. Courts in Spain, the Netherlands, and Brussels have temporarily called for the suspension of some Uber services. In New York and Chicago,
apps will be created by the two cities
so that licensed taxis can be summoned using a smartphone, similar to how Uber cars are "hailed".
Uber really can't celebrate the legal victory in Paris as it came on a technicality. The issue found its way to a Paris commercial court, which is not the jurisdiction for criminal matters. The court did grant Uber's request to have the country's highest court judge whether parts of a new French transport law that are aimed at apps like Uber's, are constitutional.
source:
WSJ