Pantech Flex announced by AT&T with Easy Experience mode for simplicity seekers
6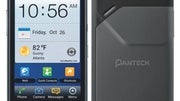 AT&T just made the Pantech Flex official
– an Android handset tailored for first-time smartphone users and people that like things simple. The device is the first among the carrier's lineup to include the so-called Easy Experience mode. When enabled, it arranges apps on the home screen in a neatly-organized, easy-to-read fashion, thus providing quick access to frequently used features – social networking, web browsing, email, and more. At the same time, all of the device's advanced functions are accessible, and should the user need to, they are free to switch back to the traditional Android interface.
Specs-wise, the Pantech Flex offers a 4.3-inch Super AMOLED touchscreen with qHD resolution (540 by 960 pixels). Inside it runs a dual-core processor clocked at 1.5GHz, and an 8-megapixel camera with auto-focus and LED flash is positioned on its back. If available, the smartphone can connect to AT&T's 4G LTE network for speedy access to the internet. The unit tips the scales at 4.6 ounces. On the software side of things, Android 4.0 Ice Cream Sandwich comes out of the box.
AT&T will start offering the Pantech Flex on Sunday, September 16, both online and in its retail stores, as well as in partners' outlets. Pricing is set at the quite reasonable $49.99 with a 2-year contract. Any takers?
source: AT&T
NEW PANTECH FLEX FROM AT&T PROVIDES ADDED CHOICE FOR SIMPLICITY SEEKERS
First 4G LTE Smartphone to Feature "Easy Experience" Mode Runs Android 4.0
DALLAS, Sept. 4, 2012
– The first smartphone at AT&T to offer customers the option to choose between the traditional Android operating mode and a more simplified version ideal for new smartphone users, the Pantech Flex will be available exclusively from AT&T* online and in company-owned retail stores for $49.99 with a two-year agreement, beginning Sept. 16.


The Pantech Flex offers a unique dual experience system that runs on Android 4.0 (Ice Cream Sandwich). The standard Android format is available for the customer who wants instant access to a wide range of their favorite features – social media sites, email, video and more. In addition, Flex provides the "Easy Experience" mode which prioritizes customers' apps on the home screen in a clearly organized and easy-to-read format. Easy Experience users can enjoy an intuitive experience without sacrificing any the latest in smartphone technology. By switching simply between traditional and easy modes, depending on preferences, Flex is a very customizable device.


In addition to its dual operating systems, Flex weighs only 4.6 ounces and has a slim design that makes it easy to slip into a pocket or purse. Flex features a full touch 4.3-inch qHD Super AMOLED display for a vibrant picture and a 1.5 GHz dual-core processor. The intelligent Pantech SwiftKey technology makes typing a breeze by minimizing key strokes by learning a user's natural language for more accurate word predictions and corrections. Flex also features an eight-megapixel rear facing camera with 1080p HD video recording capabilities and a two-megapixel front facing camera.


"The Pantech Flex is a great phone because of its versatility," said Jeff Bradley, senior vice president, Devices and Developer Services, AT&T Mobility. "This phone simplifies the smartphone experience and allows someone who has been hesitant to buy a smartphone a chance to get familiar with it at their own pace, and still leaves open the possibility of having the more traditional experience."

"Flex is a smartphone that's truly for everybody," remarked Wyatt Whaley, vice president of product planning at Pantech. "With the option to alternate between the traditional Android interface and Pantech's proprietary Easy Experience , Flex is ideal for users of all ages looking for an intuitive and flexible mobile experience."


For more information, visit www.att.com/aboutus


*AT&T products and services are provided or offered by subsidiaries and affiliates of AT&T Inc. under the AT&T brand and not by AT&T Inc. Additional information about Flex can be found at, www.pantechusa.com .