OnePlus teases big Dash Charge announcement tomorrow
7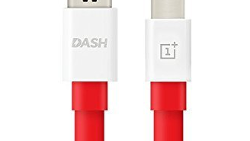 A tweet from OnePlus hints that the company will be making a big announcement tomorrow related to its Dash Charge rapid charging system. With Dash Charge, found on the
OnePlus 3
and
OnePlus 3T
, you can have your battery charged enough to last a full day after just 30-minutes. In other words, the 3000mAh battery on the OnePlus 3 and the 3400mAh battery on the OnePlus 3T will go from 0% to 63% in about the same time you can watch an episode (including commercials) of
Schitt's Creek
.
One tweet disseminated by the upstart smartphone manufacturer asks, "What should we Dash Charge next?" That would seem to indicate that a new Dash Charge product is enroute. One Twitter user suggested a Dash Charge power bank.
Because of the way Dash Charge works
(by increasing amperage instead of voltage), a power bank would have to be an exclusive to the OnePlus 3 or OnePlus 3T.
In case you're thinking that this is going to end up being some April Fool's Day joke, we would tend to doubt it. First of all, tomorrow is March 31st. Secondly, one of the tweets promoting the announcement came directly from OnePlus co-founder Carl Pei. That's not to say that Pei doesn't have a sense of humor (his Twitter handle is one of the best of all time), but we think that all signs point to this being a legitimate announcement.
Feel free to check in early and often. As soon as we hear from OnePlus, we will pass along the news to you.
source:
@OnePlus
via
TheAndroidSoul