OnePlus co-founder Carl Pei tried to troll Xiaomi's ephemeral polls, but it backfired beautifully
63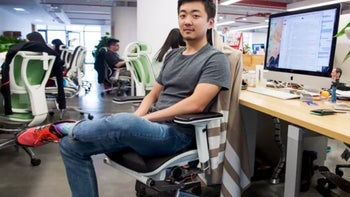 Hey, remember that unfortunate poll that Xiaomi hosted a couple of days ago? You know, the one where asked its fans to cast votes for either stock Android or the company's own heavily-skinned MIUI, and deleted promptly after vanilla 'Droid scored a crushing victory? Yes, that's the one.
Funny enough, a OnePlus engineer came up with a similar poll on Twitter just yesterday, asking OnePlus fans to compare stock Android with the company's own OxygenOS. Initially, the poll was going strongly in OxygenOS' favor, but then Carl Pei, the co-founder of OnePlus, weighed in and tried to capitalize on Xiaomi's minor blunder by tweeting "Don't delete this poll". He was probably certain that OxygenOS will emerge victorious, but as many things Internet-related, premature celebration is not advisable.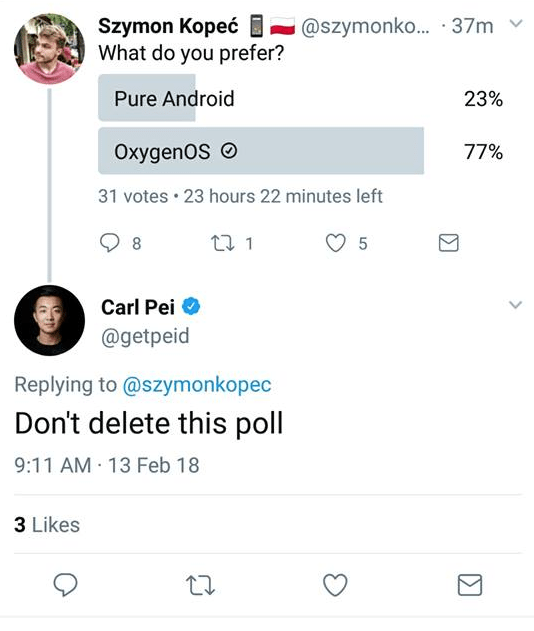 At the end of the day and for the great chagrin of Carl Pei and just about anyone who swears by OxygenOS, stock Android wound up another victory on its belt, beating OnePlus' OxygenOS by a wide margin. The joke wrote itself, but given OnePlus' latest spree of blunders and privacy-related fiascos, such a light-hearted attempt to troll a competitor becomes just the icing of the cake.
What do you prefer?

— Szymon Kopeć (@szymonkopec) February 13, 2018
On the bright side, the original creator of the poll who is a Product Manager of OnePlus, has accepted the results with a pride and promised that the team will look into ways to further improve OxygenOS, which is promising news.
Thanks for an overwhelming amount of responses. I've read all your comments. Appreciate the positive and, especially, negative ones. It motivates us for further work on OxygenOS and helps improving the product. Cheers!

— Szymon Kopeć (@szymonkopec) February 14, 2018
source: @
szymonkopec