OnePlus launches yet another contest – wants to give away a single One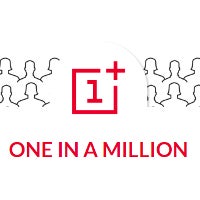 If anything, OnePlus will be remembered by its invitation-based orders for their "2014 flagship killer" and a slew of controversial and generally – badly thought-out competitions. Well, we're about to tell you that there is yet another
OnePlus One
giveaway in tow... oh, oh.
No, no cause for alarm this time, as there will be no
sexist requirements
, nor will the company ask you to
smash your current phone to bits
. It's just a random draw, which you enter by just submitting your name, email address, and liking OnePlus' Facebook page.
The company claims it's to celebrate having 1,000,000 fans on Facebook and the draw (it's kind of hard to call it a "contest") goes by the moniker "One in a million". The handset they will be giving away is the 64 GB, Sandstone Black one. We know that there are some mixed feelings among our readers about the OnePlus One, but hey – a free flagship is a free flagship. Will you be entering the draw?