New OnePlus "Ladies First" promo could be considered sexist (Promo now pulled)
31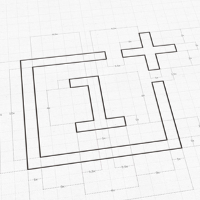 For a company trying to sell a flagship spec'd Android phone at a value price, OnePlus is having problems putting together a marketing plan that helps promote its handsets. The latest scheme is a "Ladies First" campaign. Women are invited to "
draw a OnePlus logo on a piece of paper or your hand/face/wherever
," and post it on the OnePlus web site, where the OnePlus community (mostly men) will vote.
OnePlus is drawing the line at nudity, so keep it clean ladies! The fifty most-well liked women will each receive an invite to purchase the
OnePlus One
and a Never Settle t-shirt. In addition, invites will be sent to 100 random women who participated in the contest. Lastly, if 500 entries are received, the woman who is in the picture that OnePlus likes the best, will receive a 64GB Sandstone Black OnePlus One handset. The contest begins today, ends Friday, and the winners will be announced on Monday.
OnePlus needs to work on improving its marketing plan. This new "Ladies First" campaign seems to objectify women. Add this to
the previous boo-boos made by OnePlus
, and you have to wonder if the handsets will ever receive the proper marketing that they deserve.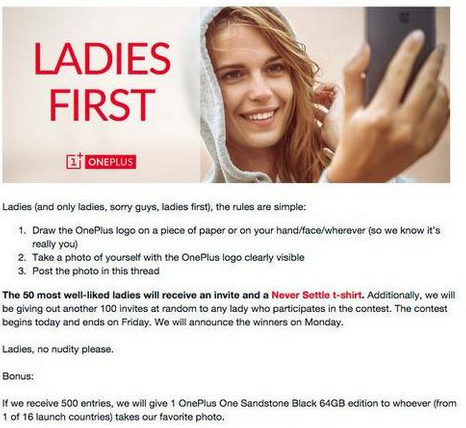 source:
OnePlus
via
BGR
UPDATE:
OnePlus, bowing to pressure from its community, has pulled the contest. We wouldn't be surprised to see it replaced with another one, so stay tuned
.
source:
Engadget