OnePlus debuts trade-in program to sweeten the deal on the OnePlus 5
2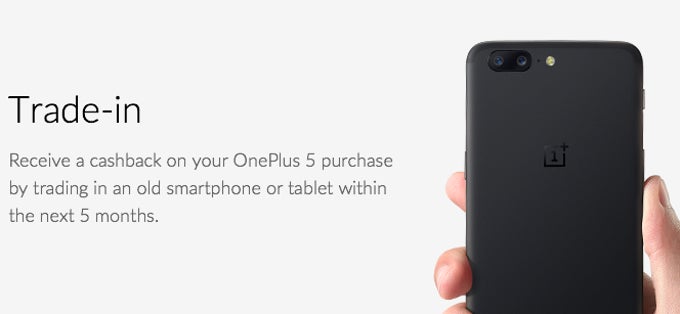 OnePlus has just opened sales of the OnePlus 5
on its website, so if you live in Europe, you can order the smartphone from just about any country. However, if you can't afford to pay the hefty amount of €500 or more for the OnePlus flagship, the Chinese company is trying to sweeten the deal with a trade-in program.
The new trade-in program is available in almost all European countries where the OnePlus is selling its products and allows consumers to offer their older phones in order to receive a discount on the
OnePlus 5
or a voucher they can use to purchase something from the OnePlus store.
Basically, you can buy a OnePlus 5 by trading an old device to receive cashback, or trade in an old device and get a voucher to spend on anything on the company's online store. The trade-in program will be available to customers for the next five months.
Unfortunately, the amount of cashback you'll receive when trading in a smartphone isn't that sweet as the offer might have made it sound. For example, a
Galaxy Note 5
(32GB) in good condition, which means it's almost as new, you'll only get €150. If you plan on trading in a
OnePlus 3
in mint condition, the Chinese company appraises it at €100, while the
iPhone 7
(32GB) is valued at €250.
It's also worth mentioning that whatever smartphone you want to get rid of will have its trade in value cut by at least 1/3 if the device has minor visible scratches on body, screen or camera due to normal use. Is OnePlus going to resell these devices or scrap them for parts?