OnePlus Loop VR headset available for free; view OnePlus 3 unveiling and buy the phone (UPDATE)
15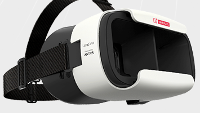 OnePlus has come up with an interesting way to introduce the upcoming
OnePlus 3
. The company,
which used VR to unveil the OnePlus 2 last year
. is returning to the space for the OnePlus 3. This time, instead of sending out a Google Cardboard VR headset, OnePlus will send out by request, its new Loop VR headset for free (well, you do have to pay for shipping). Partnering with AntVR, OnePlus has developed the Loop VR device, which will work on any phone with a 5-inch to 6-inch display.

UPDATE:
WHOA! The Loop VR Headset is already listed as being out of stock on the OnePlus website. There is no word on whether OnePlus will replenish its inventory.
Once you pair the headset with your phone, you are taken (virtually, of course) to OnePlus' Loop. This virtual space station is where you will be able to view the unveiling of the OnePlus 3, and purchase the handset before others. The date of the OnePlus 3 VR event has not yet been announced.
Last year, OnePlus shipped out 30,000 Google Cardboard VR headsets for the
OnePlus 2
unveiling. The company has 30,000 Loop VR headsets waiting to ship. To order your free VR headset, you will need to copy the following URL and replace the 'UK' country code with the one used for your country. For example, if you live in the U.S., replace the UK with US. The address is http://oneplus.net/uk/oneplus-loop-vr.
source:
OnePlus
via
AndroidAuthority
Recommended Stories