On which carriers can the iPhone 5 be used with LTE speeds, and why Europe was hung out to dry
14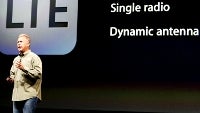 The initial LTE phones were using the bulky, battery-guzzling first generation radios, so Apple said to LTE "I'll pass, thanks." Yesterday, however, Cupertino joined the LTE handset gang with the iPhone 5 announcement, and it's been almost 24 hours without
Samsung filing its first LTE patent lawsuit
against it, but let's wait until the handset appears on Korean carriers. We kid, but despite the high expectations for LTE support in the new iPhone, such networks around the world are not what they are cracked up to be justyet.
We won't bore you with much technical details behind Long Term Evolution (LTE) networks, suffice it to say the current iteration allows for up to 100Mbps download speeds, improved reliability, and record upload speeds, not to mention their deployment and precious spectrum utilization for carriers is much less costly than other alternatives. Yet, the world is just now turning to LTE infrastructure, so Apple's iPhone 5 will launch with
just around 20 carriers worldwide where it can take advantage of its multiband LTE radio
.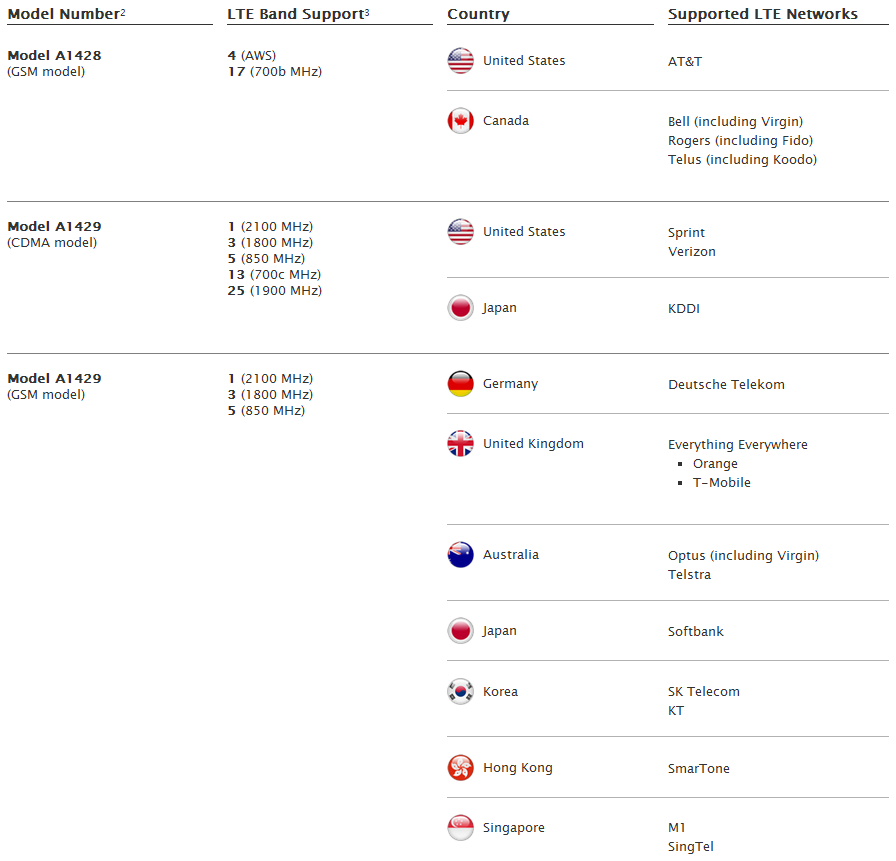 As you can see from the table above, Asia uses 1,800MHz and 2,600MHz in places like Singapore, Hong Kong and South Korea. Japan and the US share the 700MHz or 2,100MHz frequency range, while in Europe they utilize 1,800MHz or 2,600MHz.
Some carriers also run LTE on everything in-between, such as 800MHz and 850MHz, so if we don't get some overarching standard, the iPhone 5's LTE will be incompatible from one network to another, and you will have to make do with 3G or up to 42Mbps theoretical HSPA+ speeds at best.
Europe is the biggest loser here
, as just 25% of LTE there operates on the iPhone 5's 1, 800MHz, with the rest deployed or about to be deployed at 800MHz and 2, 600MHz. Here is the list of European carriers which have 1, 800 support:
Azerbaijan (Azercell)
Bulgaria (Vivacom, M-Tel)
Czech Republic (Telefonica O2)
Croatia (VIPNet, subsidiary of Telekom Austria)
Denmark (Telia)
Estonia (EMT)
Finland (TeliaSonera, Elisa, DNA)
Germany (Deutsche Telekom)
Hungary (T-Mobile/ Telenor)
Latvia (TeliaSonera/ LMT)
Lithuania (TeliaSonera/ Omnitel)
Poland (Aero2/ Mobyland)
Portugal (Optimus)
Slovenia (Si.mobil launched, Mobitel to launch in 2012)
United Kingdom (EE)
And those that are about to get it:
In Belgium, Proximus has plans to launch LTE1800 before the end of the year, and Mobystar has also said it would launch LTE1800.

In France, Orange and Bouygues have both been trialling LTE at 1800. FT/Orange has a trial LTE network in Paris supporting FDD (800, 1800, 2600 MHz) and TDD modes and a pilot LTE network in Marseille. Service launch is expected in the 2012-13 timeframe. Bouygues Telecom is trialing LTE1800 in 10 MHz bandwidth using 2x2 MIMO at sites in Orléans and plans to deploy 5,000 LTE-capable base stations bythe end of 2012 with service launch in 2013. The company is running a pilot network in Lyon from June 2012.

In Italy, 3 Italia, Vodafone and Telecom Italia all have plans for LTE1800. 3 Italia is deploying LTE1800 and from 2013 intends to offer multicarrier aggregation (an LTE-A feature) allowing LTE1800 and LTE2600 to be used together.

In Portugal, Vodafone commercially launched LTE service on March 12, 2012 in 2.6 GHz. The LTE network will eventually use 800 MHz, 1800 MHz and 2.6 GHz.

In Spain, Yoigo holds 1800MHz spectrum that it intends to use for LTE.

In Russia, Tele2 has been trialling LTE1800, and wants to depoy services.

In Sweden, Net4Mobility and Telia Sonera have both acquired spectrum in the 1800 band, which they will be able to use for LTE from January 2013. Net4Mobility and TeliaSonera each has 2 x 35 MHz in 1800 MHz.

In the UK, 3 UK has agreed to purchase 2 x 15 MHz of 1800 MHz spectrum from Everything everywhere, and plans commercial launch of LTE service in 2013.

In Turkey Avea has conducted trials in its 1800 spectrum.
So is Apple playing favorites by excluding the world's largest operator by revenue, Vodafone, and other juggernauts like O2 and Telefonica from its LTE frequency compatibility list for now? Could it be it is bringing it back to
some European carriers which threatened to cut subsidies
when they heard Cupertino is toying with the idea for a programmable SIM inside the iPhone, so you can just change from one network settings to another with an app download?
Hardly the case, since those complaining carriers were indeed Vodafone, FT and Telefonica, whose LTE frequencies are now excluded in the iPhone 5, but Markus Goebel, a spokesman for O2 Germany in Munich, clarified: "
Apple wants to maximize LTE reach for its iPhone and Deutsche Telekom got lucky that the 1,800 MHz frequency is also used by operators in Asia,
" and that's that. Moreover, Vodafone Italy is in the final stages of LTE deployment on frequencies that will be compatible with the iPhone 5, as you can see in the quote above, so the band support is just a matter of practicality for Apple.
Does that mean that DT customers, for example, can take their new unlocked iPhones and use them on LTE networks in Korea, Hong Kong and Singapore? Well, the frequency support is there, but that doesn't mean all the specific network settings will be, so we'll see what happens in terms of compatibility.
Putting all LTE frequencies in one device is counterproductive, to the extent that sometimes even motherboard changes have to be made to accommodate all the different bands and interference filters in a radio, so Apple decided to make devices tailored for specific markets, and with the iPhone 5 it seems those are predominantly
North America and Asia, where LTE is a much more mature technology
.
Furthermore, when more and more carriers finish their LTE deployment, it will be clearer what standard bands set has to be supported for a truly global LTE handset to appear. In the meantime, you get LTE on the iPhone 5 for certain with the 20 or so carriers listed above at launch, and that's that.