European carriers go ballistic over Apple's idea for embedded SIM card, threaten to cut subsidies
8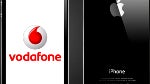 This story is getting better by the day -
yesterday we reported
that the GSM Association will be working with carriers, including major US ones, on a joint standard for embedded in handsets subscriber identity module, or a SIM card, as generally known. That's one association and some of its carrier members, mind you. When the most profitable cell phone manufacturer in the world wants to do a similar thing, some double standard seemingly kicks in, and there are now riots in carrier land.
Apple
recently started working
with the wireless security company Gemalto, whose programmable over the air SIM card solutions are used in
big pilot projects for mobile payments in Europe
. These chips has both read-only and regular flash, which could allow activating an iPhone via an App Store download for any given network, presumably to simplify life for European users.
Afraid they will be left out in the cold as mere spectrum suppliers, if Apple decides to put an embedded SIM card in the next iPhone, some major European carriers are to cut subsidies for the iPhone, if Apple goes ahead with the idea. In private talks Vodafone UK, France Telecom and Telefonica in Spain have expressed concerns about Apple's move, and a senior executive was even cited that Apple risks "war" with them, if these plans move along.
All to the extent of carriers threatening to cut the subsidies they chip in to bring the $600 average wholesale cost of the iPhone down to free on some plans in Europe, provided that a two-year contract is signed. According to analysts, removing the carrier's subsidy could diminish the iPhone sales by 12 percent worldwide.
What worries the European carriers is that Apple will make it inherently easier for customers to activate or reprogram their iPhones for any given network by a simple App Store download, thus allowing them to move back and forth between carriers, or require shorter contracts. We really don't see what the issue is here, considering that you still have to pay for the carrier's service, and roaming charges are to be abolished throughout the EU pretty soon, but the devil is in the details, and those we don't know yet.
It is certainly a novel phenomenon - a three year old cell phone manufacturer like Apple achieving such leverage that the almighty carriers feel the need to intimidate, so as not to lose the relationship with their customers. Apple could be on to something here, so we'll be watching the developments with baited breath.
source:
FinancialTimes
(requires registration)