November 11th T-Mobile launch date for Motorola CLIQ and BlackBerry 9700?
November 11th looks to be a great day for T-Mobile fans with not one, but two big name launches expected to take place. One of BGR's Men In Black has discovered that the social monster that is the Motorola CLIQ is expected to be released on that day. Motorola's first Android device features the MOTOBLUR UI and for the first time in years, serious cellphone fans are saying the "M" word again-without laughing. We recently
reported
about some leaked promotional material for T-Mobile which showed October 19th as the starting date to pre-order the CLIQ which dovetails nicely with a November release. The same tipster also mentioned to BGR that November 11th will also see the launch of the BlackBerry 9700 for T-Mobile. We have seen this handset called the Onyx and the Bold, but we have no idea which name T-Mobile will use. AT&T is expected to
launch their version
of the handset at around the same time while Rogers will be the first to go in North America in mid to late October.
The tipster told BGR that this info was tentative and that anything could happen. With that in mind, if you have either phone on your wish list and you are a customer of the nation's fourth largest carrier, better start looking for that loose change in your couch because before you know it, November 11th will be here.
Motorola CLIQ Specifications
BlackBerry 9700 Preliminary Specifications
source:
BGR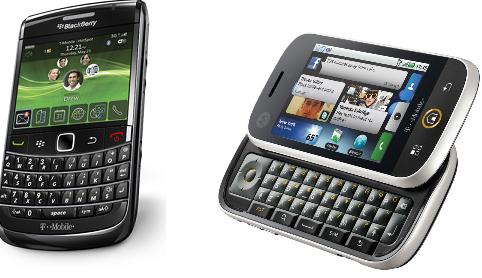 BlackBerry 9700 (L) and Motorola CLIQ (R)
Recommended Stories