Nokia's N900 now available from sea to shining sea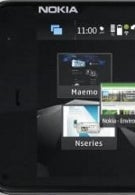 Nokia has released the Maemo 5 powered N900 for sale in the U.S. and the Finnish manufacturers describe it as a "computer in your pocket". Those who took advantage of the pre-order period will be happy to know that the handset is now shipping with 32GB of storage, 3G connectivity and Wi-Fi. In the press release from Nokia, the word phone is never used to describe the device. "Consumers from every segment of the population are looking for moreout of their mobile device - more power, more ability, moreconnectivity. The Nokia N900 ushers in a new era with a very powerfulmobile computer," said Alessandro Lamanna, Vice President, RetailSales, Nokia. "With an open source operating system, incorporatedtechnology like an OMAP processor, and real time web widgets, the NokiaN900 delivers the experience of a pocketable computer that has theinformation you're looking for right there waiting for you thanks tothe ability to be connected just about anywhere."
The N900 is equipped with a browser using Mozilla technology to make mobile browsing more desktop-like especially with Adobe Flash 9.4. The N900 features a 3.5 inch touchscreen with a QWERTY keyboard and a 5MP camera with AF, Carl Zeiss optics and dual LED flash. Available in black, the handset retails for $649 and can be picked up at the Nokia flagship stores in New York and Chicago. It can also be ordered at Nokia's U.S. online store (nokiausa.com) or through various retail outlets. We have just published our review of the Nokia N900, so check it out!
Nokia N900 Specifications
|
Review
source:
Nokia