Nokia World 2012 announced: new format, will kick off earlier than usual in September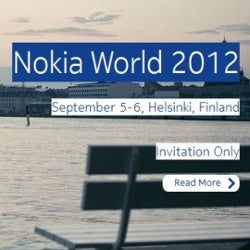 Nokia World is traditionally the biggest single Nokia event for the year - it's a forum that usually brings a handful of new devices and most of the software news from the Finns, but this year the format will change completely to many much smaller events and the first one will kick off earlier than usual, in the beginning of September.
Nokia World 2012 starts on September 5th
with an invitation-only event for carriers and larger partners, but it will be followed up by other events that will cater to different audiences. Overall, the whole event is becoming more fragmented and less centralized. Nokia says it will look more like the SXSW show rather than the a CES-like event.
Previously, Nokia World 2012 was said to kick off on September 25th, but it seems now that Nokia could be running ahead of schedule. That is if it indeed announces new handsets at the first event, which might not happen. So, let's just wait and see how it all works out.
Just now, we've heard that
Nokia is cancelling Symbian Carla
, so the logical assumption is that all focus is now on Windows Phone. Nokia will announce all of the upcoming small events around Nokia World soon, so stay tuned to find out what's next for the company.