Nokia Lumia 930 will cost $599, Lumia 630 and 635 both under $200
27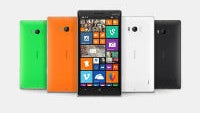 Earlier today, we got the majority of the info on the three new Nokia devices that are on the way, but we didn't learn about pricing and availability for the new Nokia Lumia 630, 635, and 930 handsets. We know that the three devices will be kicking off the shift to Windows Phone 8.1, and now we know that two of the three will be incredibly inexpensive.
The Nokia Lumia 930 is a premium device and as such will carry a premium price tag. Stephen Elop took the stage for the #moreNokia event a few minutes ago, and he started out by saying that the 930 would be released in June in Europe, the Middle East, and Asia, and would cost $599 off-contract. The
Nokia Lumia 630 and 635
handsets look to be taking on the Moto G. The single-SIM model of the 3G Lumia 630 will cost just $159 on the full retail pricing; and, the LTE-enabled Lumia 635 will be priced at a very attractive $189. No word on launch regions, but it was confirmed that the 630 will be coming to Latin America.
The price on the dual-SIM Lumia 630 also wasn't specifically set, but Nokia did confirm to us that it would be priced "under $200", which is extremely nice for a dual-SIM device. *Update* Nokia has finally given a proper price for the dual-SIM Lumia 630, it will cost $169, which is definitely a competitive price.