Nokia Lumia 930 Review
99+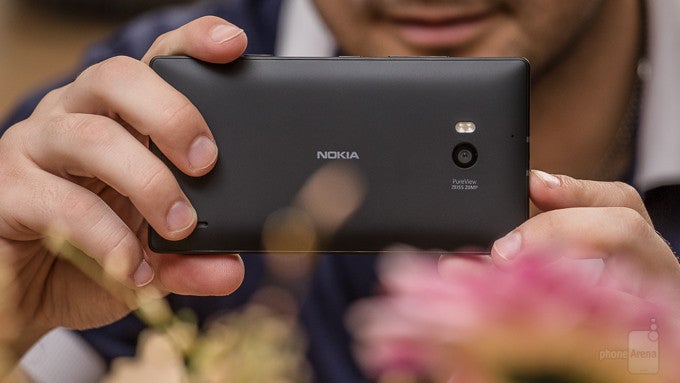 Introduction
The
Lumia 930
is the international version of Verizon's exclusive Lumia Icon flagship, and is arguably the swan song of the Nokia that were, as it has been conceived before Microsoft gobbled up its entire smartphone business. Nevertheless, it is Windows Phone's attempt to hold the flagship fort against Android juggernauts like the
Galaxy S5
or the
Xperia Z2
. At first brush it has everything needed to take them head-on, like a large 1080p display, quad-core Snapdragon processor, 2 GB of RAM, 32 GB of internal memory, a 20 MP main camera, and exclusive Dolby surround audio recording. How about when we dive into the details? Let's see...
In the box
In-ear stereo headphones
Nokia AC-60 wall charger
Nokia Charging and Data Cable CA-190CD
Warranty and information leaflets
Design
With its chunky, but comfortable to grasp chassis, the Lumia 930 is one solid piece of unibody craftsmanship.
Compared to the
Lumia 1020
and its giant 41 MP camera hump on the back, Nokia Lumia 930 is definitely smaller. However, at 5.39 x 2.80 x 0.39 inches (137 x 71 x 9.8 mm) and weighing 5.89 oz (167 g), it is still bulky and heavy for a 5-incher. The heavy unibody chassis feel very solid, though, and this feeling is further reinforced by the aluminum rim surrounding the sides, which gives the colorful polycarbonate pillow-shaped shells of the Lumia 930 a more premium look. We also liked how the tapered cover glass slopes towards the sides to merge with the metal rim for one uninterrupted look and feel. Nokia bragged that it takes hundreds of robotic movements to achieve the curved glass edges, and we have to say that the results of all that scrubbing are very pleasant to hold or simply look at.
The buttons are all located comfortably on the right hand side, with the most used power/lock key right smack in the middle. The lock key, as well as the volume rocker above it, and the two-stage camera shutter button are very ergonomic, easy to feel and press without looking, and with a deep tactile feedback.
Display
True to its traditions, Nokia supplied a display with excellent outdoor visibility, and then threw in manual color mode adjustments for a good measure.
Lumia 930 sports a 5" 1080x1920 pixels AMOLED display with the respectable 441ppi pixel density. You have several display modes to choose from, like cool, vivid and advanced, with the latter letting you play around with color temperature and saturation sliders, until you've reached the desired results. Color saturation can be adjusted from "natural", all the way to the gaudy "vivid" level. Color temperature goes from warm through neutral to cold, while you can also emphasize separate colors with another slider – from green to purple. In the default mode, we measured the color temperature to be 6724K, which is very close to the reference 6500K white point, but still, white has a slight purpleish tint. As usual with AMOLED display, colors are oversaturated colors but to a lesser extent than, say, in the Galaxy S5's default mode.
Nokia's ClearBlack layer on top of the display comes to improve the screen reflectivity and we can attest that the Lumia 930 performs great in terms of outdoor visibility. We took it out together with the Galaxy S5, which is great in this aspect, and Nokia's phone performed on par, even beating the S5 by a tad when looked at from an angle.
Covered by sculpted Gorilla Glass 3, the Nokia Lumia 930 screen should withstand more than a few bumps and scratches, and, as usual, it also features a supersensitive touch layer, meaning that you can operate it with your gloves on.
Display measurements and quality